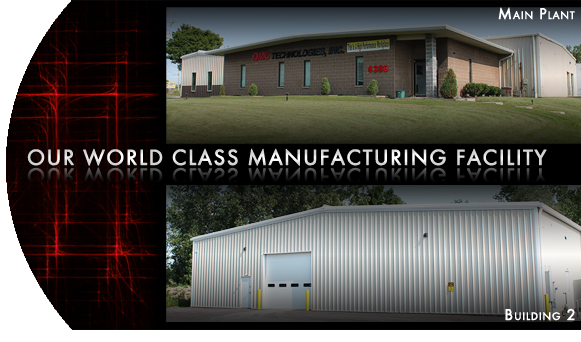 QMC Technologies, Inc. began in 1976 as a machine shop providing high precision short run machining services for local industry in Western New York. Over the years we have centralized our focus on becoming a premier custom job shop and class A vendor by providing you the lowest actual cost and highest quality possible.
To date, our manufacturing facility is a world-class technology driven plant where we utilize the latest advancements in tooling and machinery for prototype to large volume runs.

Each year QMC has expanded and increased its presence in the marketplace by increasing the number of machines and by providing our customers the highest consistent quality and excellent service.
At QMC we have defined our mission. We believe that to be successful, our customers want to take advantage of the latest technologies to help them solve their productivity problems.
For 40 years, in a partnership approach, we develop solutions to provide specific manufacturing solutions which provide to customers, contract manufactured products which are on-time and defect free.
QMC presently supplies precision machined parts using state-of-the art equipment under structured process environments. We have been placed in the top percentile by several of our major Fortune 1000 customers and we are proud that our passion for machining quality products has earned us a ranking amongst the best.
We provide to our customer the highest level of craftsmanship and quality and excellent service at a competitive price. By contracting their requirements in a partnership arrangement, our customers avoid the direct costs of labor and material, attendant overhead expenses required for plant, equipment, raw materials and finished goods inventories.
Most importantly, our customers have also found that their quality control costs have decreased since they began their partnership with QMC.
---
Mission
Our customer is the most important
person for us to satisfy.
You are entitled to quality.
We will only offer products of the highest quality.
This is the only standard of pieces that will leave our building.
Our customers are equally entitled to the highest of service & courtesy possible.
Customers are the only reason QMC exists.
Philosophy
It is our main goal to provide you with the highest quality and to be the most responsive supplier to your machining needs
Through integration of automation and innovation, we strive to maximize our competitiveness to ultimately lower your costs.
It is our every day goal to gain our customer's loyalty through a positive relationship and excellent service.
---
We believe delivering exceptional value means:
The highest levels of craftsmanship and quality
Rapid response quote turnaround
Consistent, competitive pricing
Understanding and meeting customers needs and requirements
Continuous improvement of systems and quality
Continuous and ongoing investments in leading edge technologies
Disciplined quality control systems
Quick project turnaround and delivery of products ready implement

---